Frequently Asked Questions
How much does a digital billboard cost?
billboardled
2018-05-16T01:18:46+00:00
A digital billboard that is similar in size to a traditional highway billboard costs between $50,000 and $250,000. The higher the resolution, the higher the price. Keep in mind that is only for a one-sided sign. Adding a second side will nearly double the price.
A smaller digital sign like the ones you may see at local retail establishments, school, churches, etc. are drastically less expensive. These signs can cost as little as $5,000 up to $15,000 for a full color display. Again, beyond just size, the price will depend on the resolution and whether it's single or double-sided.
It's important to note that virtually all digital sign companies offer financing through their preferred lenders, along with a service warranty. This makes the experience of purchasing a sign more akin to a lease, where there are only nominal upfront costs.
The Anatomy of an LED Sign
Depending on the size of the display, the front panel has three opening mechanism options: Sliders, Metal Cables, or Gas Shocks.
Thermostatically controlled forced air ventilation with an optional heater.
Finished with ultra high quality powder coating material made in the U.S. by Akzo Nobel.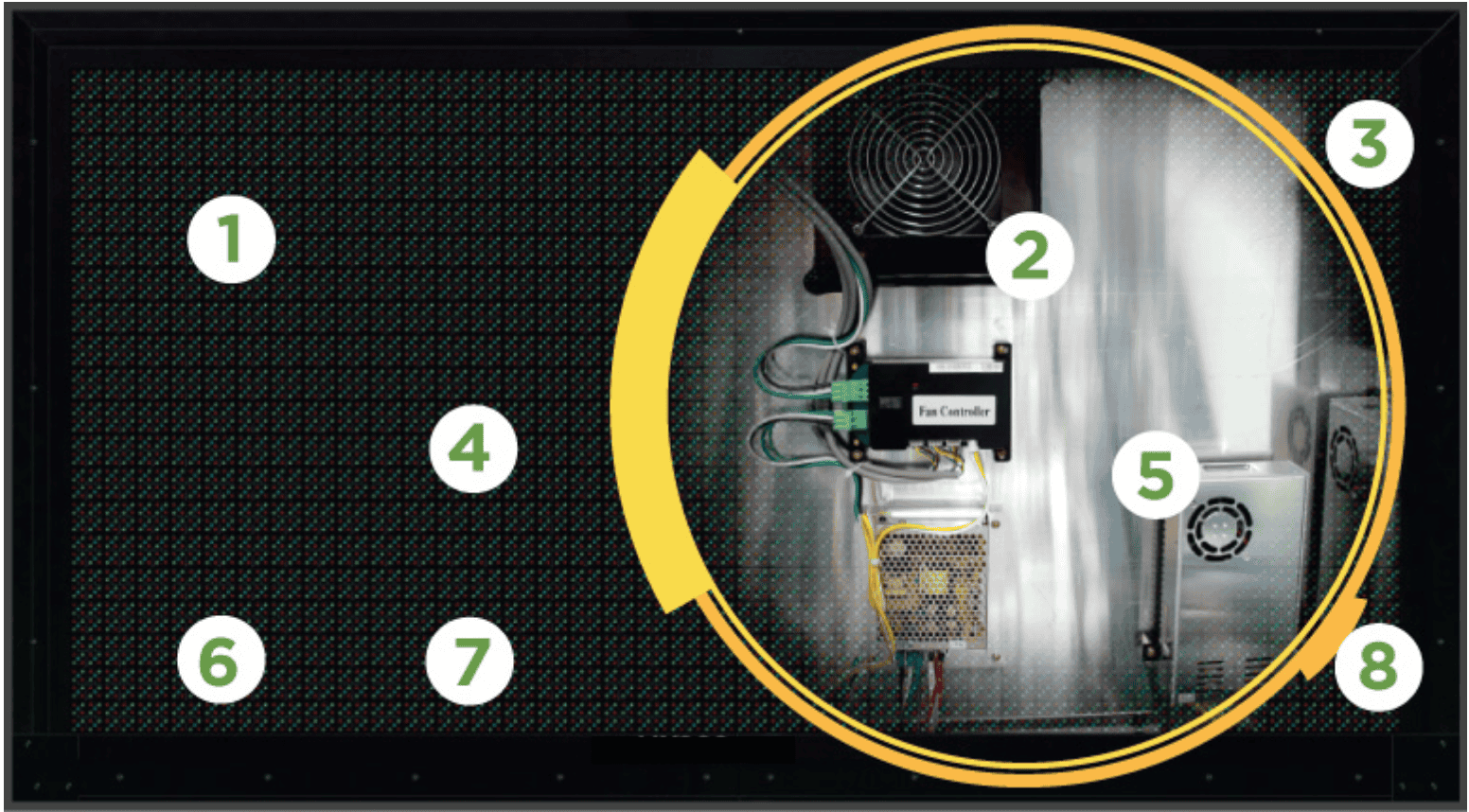 Unique display modules with Electrostatic Discharge (ESD) protection and IL technology, made from materials by General Electric. Optional removable pixel modules are also available.
All of our LED signs use a high-grade Power Supply with Auto Protection features made specifically for us.
The Printed Circuit Board (PCB)-based Quality Series utilizes Nichia diodes that are made in Japan. While the PCB Genesis Series uses a mixture of Nichia and Everlight LEDs.
Removable powder coated water shield with strategically placed additional deep and ultra wide drains that have been proven for all severe environment conditions.
Ultra thick high quality aluminum alloy extruded frames serve a solid foundation for quality, longevity, and a base to build superior ventilation.
We can provide optional back service access doors if needed for no extra charge.
10.

Control Cards/ Circuit Boards
Designed in-house and made with stringent quality control to ensure the highest reliability.
Standard mounting fixtures across the back of the sign have adjustable mounting angles.
Enhanced Signal Drivers, which ensure the image quality and the longevity of the display.
We provide beams and bars to reinforce the cabinetry for the extreme weather conditions. In addition, we take a systematic approach to the thermal ventilation design, which allows strategically designed airflow and airspeed to maintain critical parts working under desired temperature ranges to ensure the highest reliability.